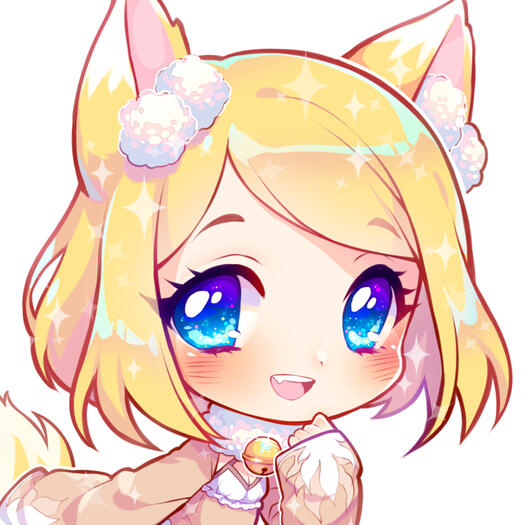 Nanaiko
Hobbyist Artist ✦ Digital Art ✦ Portugal
---
---
Commissions
The prices listed bellow are for personal use only.
Paypal fees are included in the commission prices.

Please read my Terms of Service before commissioning me.
---
Chibit
Price: 5€
➔ 2€ extra for weapons/big props and you get 2 versions of the chibit.
➔ I sometimes do custom poses but those come with an extra charge.
Status: CLOSED
---
Headshot
Price: 15€
Status: CLOSED
---
Bust Up
Price: 20€
➔ 2-5€ extra for complex designs.
➔ 13€ extra per additional character.
Status: CLOSED
---
Halfbody
Price: 30€
➔ 5-10€ extra for complex designs.
➔ +20€ extra per additional character.
Status: CLOSED
---
Commission Forms
Fill out one of the following forms and send it to me via deviantART, Instagram or Twitter in order to commission me.
-

✦ Commission Form ✦

Commission Type: (Headshot | Bust | Halfbody)
Character Name:
Character Reference(s):
Character Gender:
Character Personality:
Background: (white | solid color | transparent | simple pattern )
Other: (pose? facial expression? anything you find relevant)
Paypal Email:
Your social media links: (optional)
-
-
-
✦ Chibit Commission Form ✦

Commission Type: Chibit
Character Name:
Character Reference(s):
Character Gender:
Expression: ( OvO | OƐO | ¬‿¬ | ¬_¬ | ¬ ‸¬ )
Other: (any other information you find relevant)
Paypal Email:
Your social media links: (optional)
-
---
Terms of Service
If you are uncomfortable with my T.O.S and/or are not going to agree with them,
I suggest you look for another artist.

BY COMMISSIONING ME IN ANY KIND OF WAY YOU ARE AGREEING TO THE FOLLOWING TERMS OF SERVICE:
I. General Terms
✦ Please write in a clear way and don't forget your manners.

✦ Please provide neat references and not blurry pictures or walls of text.

✦ Any ill behaviour will not be tolerated and your commission will be canceled if such occurs.

✦ If you fail to follow the rules provided I have the right to decline your commission.

✦ You are only purchasing a digital file, NOT printed art.

✦ I will send you the full resolution picture privately and upload a smaller, watermarked one on my social media.

✦ Be sure to save the picture somewhere on your computer as I my clean my social media in the future.

✦ If you want to order an artwork for commercial use, prices will probably double up or more. The following cases are considered comercial use:

➔ Reproducing and selling the artwork.
➔ When you receive profit in the medium where you're using it and/or as a way to get attention (such as Twitch, Patreon, YouTube videos, banner of personal website, business cards...).

✦ I hold the right of increasing the price if you want a very high detailed drawing.

✦ I hold the right of cancelling your commission if I don't feel like drawing it or if you've been proved troublesome in any way.

✦ Do not ask me to draw in a different style. If you're commissioning me it should be because you like my work, not because your favourite artist is busy.

✦ Even if the provided reference of your character has a color palette section, I may modify them a bit to make them fit my style (it's just a slight change). If you want me to stick to them, please specify so on the order form.

✦ As an artist, my art is constantly evolving so there might be slight differences between the samples in my gallery and the artwork you will receive (lineart style, coloring method, etc...). They're very slight changes but please keep that in mind.

✦ By purchasing any of my services you're automatically accepting my Terms of Service and being obligated to follow them. As well as promising you won't request any chargeback at any time.
II. How to order
✦ Fill out the form provided in the commission tab.

✦ Send me a note on deviantART titled "Commission" or something similar.

✦ If you do not own a deviantART account you can still contact me through Instagram, Twitter & Toyhouse.

✦ I might be a multilingual person but I'm still learning. This said, I'd appreciate you speak either English, Portuguese or Spanish when you commission me.

✦ Wait for my reply so we can discuss any details if needed.
III. PAYMENT PROCESS
✦ All commissions must be paid in full upfront.

✦ Do not send the payment before I reply to your order, please wait for my feedback first.

✦ I will only accept Paypal and deviantART points payments.

✦ The points shall be paid through the donation widget unless stated otherwise.

✦ Paypal payments will only be accepted in USD and EURO unless I give you other instructions.

✦ Use a converter if you don't know how much prices are in your currency. You can find many of those online.

✦ I will either send you an invoice or a paypal.me instead of having you send me the cash in order to avoid accidental transactions.

✦ Paypal fees ARE included in the commission prices.

✦ If payment is not received within 2 days after I've requested it, you will loose your slot.

✦ I will add your order to my To-do List after the payment has been received.
IV. WORK PROCESS
✦ I am not obligated to provide you any sort of WIPs. However, WIPs might be given if I, the artist, wonder about something related to the commission.

✦ I usually share my sketches and WIPs on my Instagram stories. Follow me there if you want to see you commission's progress!

✦ The most you'll have to wait for your commission is 3 months (in the worst case scenario), which is not the usual but it may happen due to many factors such as:
➔ Health problems, order of commission, complexity, work, studies or family issues.
If any of the things occur you will be notified ASAP.

✦ I will try to finish your commission ASAP. However, please be patient with me. ETA is 3-7 days since the moment I start working on your commission.

✦ If you have ordered more than one illustration or there's other commissions to be done before yours, the waiting time will increase. Check my To-do List whenever you want for a status update.

✦ I tend to work when I feel most motivated so that your commission is done properly and with my best effort!

✦ You may ask how your commission is going whenever you'd like but as I stated before, I am not obliged to show you any WIPs unless I feel it's necessary.
V. CUSTOMER SATISFACTION
✦ I will do everything I can in order to make my customers happy as long as I'm fine with it.

✦ Once the commission is finished, I can do small changes such as color adjustments and/or adding tiny details I may have forgotten.

✦ Any great changes will come with an extra charge such as an outfit change, outfit addition or subtraction, background change or anything that makes me have to redraw it completely.

✦ If your reference was unclear to begin with, then you are not allowed to ask for minor changes without a fee. Make sure to be clear in your order.
VI. COPYRIGHT / USAGE POLICY
✦ As the artist, I hold every right to the produced artwork, so I may do whatever I wish with it, in example:
➔ Promote myself with it in any place or website.
➔ Post / display it wherever I want.
➔ Publish books with it.

✦ As the commissioner you may:
➔ Use the copyrighted artwork for personal use only unless agreed otherwise.
➔ Repost the art on other personal websites or social media with proper credit.
➔ Use it as a profile picture on social media; use it as decoration in your website, etc... as long as it's a personal account and you're not making any profit with it.
➔ Print the art and even make whatever merchandising you want as long as it's only for your personal use and not for sale.
➔ Claim the right of the character(s) but not the drawing itself.

✦ You are NOT allowed to:
➔ Change, modify or use my works without my permission.
➔ Reproduce the copyrighted artwork comercially (meaning: making money out of it in any way).
➔ Take credit for the art.
➔ Remove my watermarks or signatures.

✦ If you break copyright infringement in any way, every right you had to the drawing will be retracted.

✦ If you wish for your commission not to be uploaded anywhere on the internet (Private Commission) I'll charge you an extra 40% fee of the total price.

✦ If by any case you wish to "un-private" that commission in the future, you just have to send me a note or message, however, there will be no refunds for the extra private fee.
VII. CANCELING / REFUNDING POLICY
✦ I, the artist, hold the right to cancel and refund the money for your commission at any time.

✦ I can refund 100% of the payment only if I have not started working on the sketch. Once I have started the sketch I can refund 50% of the payment. Once I reach the lineart stage there will be no refunds.

✦ You have no right to cancel or demand a refund from me, the artist, under any circumstances after payment is received.

✦ If you file a chargeback against me, your right to everything I have ever made for you will be retracted and I have the right to sell the copyrighted artwork to new buyers.

➔ You will be blocked and you won't be able to purchase anything from me anymore (commissions, adopts...).

➔ Your name and info will be publicly posted everywhere I want for others to watch out for you.

➔ I also have every right to file a complaint and I have all the right to the money you have given me.
-
-